Hi All,
This shoot is one I did last year for the Vixen Management calendar, The Girls of Vixen 2010. The model was Anna Lind-Hansen, who some might remember from the 2006 season of Big Brother. She has also appeared in Ralph and Zoo on multiple occasions.
The first half of the shoot was a survivor/shipwreck theme we did for the calendar and then afterwards we took a couple of shots for the fun of it (I've separated the pics accordingly). The hair and make-up was done by Sheridyn Fisher and the styling was done by Sheri and myself.
The shoot took place at Nelson Bay and in spite of things; it was one of my favourite shoots thus far. I say in spite of things because it was one of the worst days to shoot weather wise than anything I've experienced so far. The wind was howling and the photos had to take place in between constant spells of rain, which wasn't easy because the beach we were at was isolated and away from any shelter.
It was one of my favs because in spite of that all, we still managed to have fun with it. Anna is not only one of the nicest persons, she is an absolutely stunning woman in real life and one of the easiest models I've ever shot with, needing no direction and hitting each pose so easily. In all the time we shot in the cold wind and wet conditions, she never once complained and was 110% the whole time, a true professional in every sense.
She is also one of the lucky 3 people alive to hear Sheridyn belting out her shower rendition of Bobby Darin's "Splish Splash".
I hope I'm lucky enough to work with Anna again and hope you guys like the pics as much as I do :)
Survivor theme Calendar Photoshoot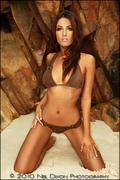 Muck around shots