Hi all
It's been a while since I've managed to post a blog, but I've been very busy with some fun and exciting shoots.
Since I've last posted I've been lucky enough to have some of my past shoots published in MaximUK online and Tracks Magazine. I've also done shoots for Bras n Things, Playboy Australia and an advertising campaign for Playboy Glitz: Celebrity Sunless with Sheridyn Fisher, the results of which were amazing and can't wait to show you all.
In this industry the opportunity to work with an amazing model, who is also one of your best friends, comes so seldom but is so rewarding. The collaborative partnership that I share with Sheri brings out, what I think, is the best in us both. We understand each other always, and we complement each other. It also makes shoots of any nature, to be fun and easy without the pressure of it being a national campaign or for a very particular client. Whether it be a shoot for fun or for a massive assignment, the ease, fun and energy on set remains the same.
I can't show any of the photos of Sheridyn's shoot just yet, but my segway from there is due to the fact that I was lucky enough to shoot with another very close friend who shooting with is exactly the same. Lucky because it's rare to have one person who you can shoot with like that, let alone two.
Donna Thompson is a name to remember Australia, because she not only an absolutely stunning model, but the most lovely person all-round. The shoot was her first photoshoot, done for the purpose of getting her a portfolio as she is only now starting to get into modelling. But her natural ability in front of a camera still amazes me, she is better than girls I've worked with who have been doing this job for years. I think it must come down to posing in the mirror and reading lots of fashion magazines :)
Since this was her first shoot, we wanted to get as many different looks as we could which ranged from natural, fun, fashion, lingerie, swimwear and bridal. It meant 2 long days of shooting, but like in the case of working with Sheridyn, the time was irrelevant because it was all fun and didn't seem laborious. We shot some by ourselves and we also were lucky to have an amazing MUA and Hair stylist for some of the more dramatic/fashion looks, a wonderful woman by the name of Stella Anogianakis. The beach shots were our own again and then we did a shoot for the amazing Vivien who designs her amazing couture and jewellery for her own line Vee Love (I urge you all to google them to see her amazing vision).
I hope you all like the pics, I truely believe Donna can have a great future in this industry, so as I said, remember her name :)
Hopefully the next time I post, I can share with you some of the work for Playboy Australia and Sheridyn Fisher, it was an amazing shoot and an amazing opportunity which I hope to share with you all.
Neil
----------------------------
Styling by Neil Dixon/Donna Thompson
Hair & Make-up by Donna Thompson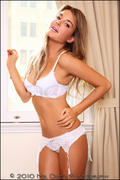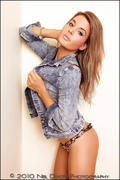 Styling by Neil Dixon/Donna Thompson
Hair & Make-up by Stella Anogianakis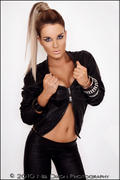 Vee Love Couture Shoot